-
Mexico City Adventure Tours is a professional organization dedicated to adventure ecotourism and conservation, which aims to create unique experiences in contact with nature and carry out ecotourism within and around Mexico City i the most sutainable way trying to make the less impact on nature.

In your visit to CDMX Mexico City you cant miss lot of tourist atractions we have and the lovely sightseeing and landscapes of the city and lot of places where you can go to live an adventure and stay in contact with the nature.
During your visit to CDMX Mexico City you cannot miss the great natural wealth that exists in the surroundings of this great city, from impressive underground caves, snow-capped volcanoes, rapids rivers to sanctuaries of millions of butterflies, archaeological sites and many Other impressive places to visit on your visit to Mexico City.
All this great natural and cultural wealth allows us to carry out a large number of Ecotourism and Adventure activities. where, in addition to spending an unforgettable day, you will support conserving the Biodiversity of the Region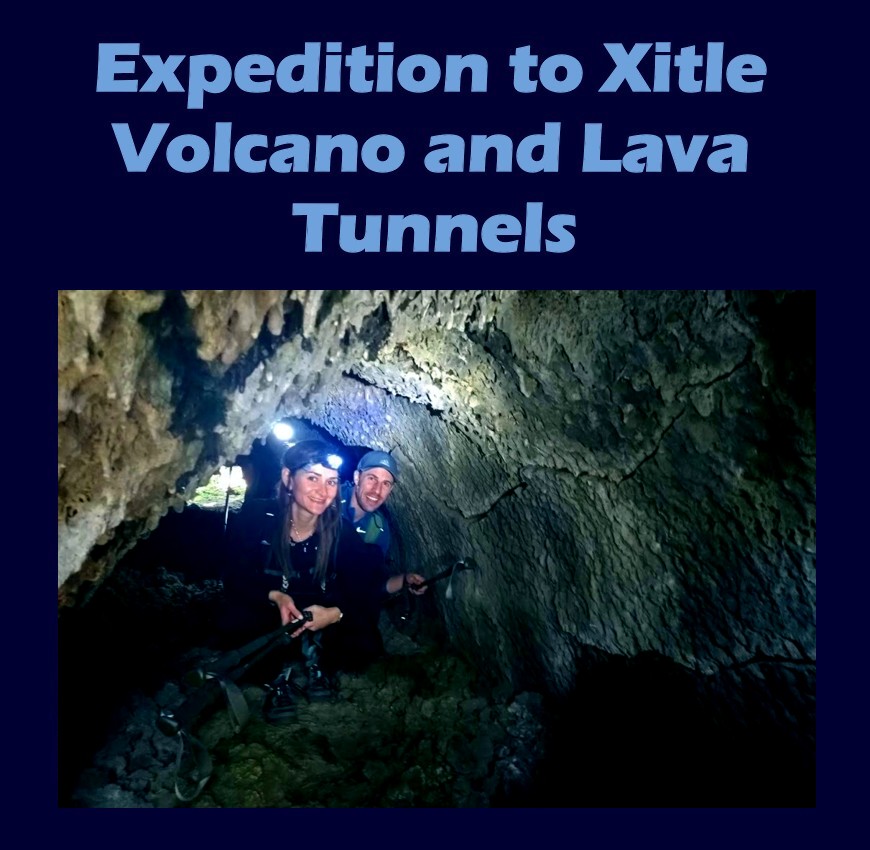 Mexico City holds an incredible an unknown secret, will make a volcanic expedition to one of the volcanoes that had great re-relevance in the valley of Mexico, since it changed the cultural history of a whole civilization and the landscape forever; The "El Xitle" Volcano, this volcano although smaller than many others in Mexico, changed the history of our country when it erupted approximately two thousand years ago, burying a complete civilization and leaving us with a very peculiar orography in the south of the City of Mexico, being completely covered by volcanic lava, this great eruption in turn gave rise to lava tunnels that we can visit during this expedition, and we will also visit one of the most mysterious cultures that inhabited the valley of Mexico, a pyramid which was completely buried by the eruption of the "El Xitle" volcano and a museum with sculptures and handicrafts dating from the pre-classic and classic period, without a doubt an adventure that you cannot miss if you come to Mexico City ...
The Xochimilco Ecological Reserve is one of the most beautiful natural places in CDMX Mexico City and definitely a place that you should visit during your trip through the capital, this wetland, recognized by UNESCO as a world heritage site, is the sanctuary of the most important wild birds in the Valley of Mexico, during this tour we will take a kayak tour through its canals where we can enjoy a morning surrounded by nature, vegetation and a large number of local and migratory birds More information...
Xochicalco is one of the most outstanding Archaeological Zones of the Classic Period, its strategic location for commerce made it a cosmopolitan mecca, where the Mayan, Teotihua can and Zapotec cultures merged, thus creating a great city with the influence of these three cultures. leaving a beautiful city in Morelos jungle, surrounded by exuberant vegetation, temples, ceremonial squares and even a ball game from the classical era, the best preserved in Mexico, like Calakmul was one of the most important prehispanic cities of the clasic period, likewise we will know Tepoztlán on our way back to CDMX, where We can meet this beautiful magical town and enjoy a delicious meal in the regional market of Tepoztlán .....
Tepoztlan is known for being a beautiful magical town located in the state of Morelos, where we can find beautiful architecture, delicious Mexican food and some of the most incredible landscapes in the tropical mountains of Mexico, where we can find one of the mountains The Cerro del Tepozteco is also more beautiful, which in addition to having an exuberant tropical flora, we can find on the top of it a pyramid built hundreds of years ago by the Aztec culture, we can also visit the Sanctuary of the Coaties where we can observe them in its natural habitat and in full freedom, if we are lucky we will be able to see them closely, also we will visit the Ex-Convent fo Natividad, one of the oldest in Mexico, The Prehispanic Art Museum and enjoy the rest of the day in this beautiful Magical Town.
If you are interested in learning about the pre-Hispanic cultures of Mexico, this tour is designed for you, get to know Teotihuacán, one of the most incredible pre-Hispanic cities that has ever existed, made up of a pair of enormous pyramids that was the site of enormous more important ceremonial temples from the classical period, unique in its kind, this ancestral city has a large number of buildings along a large causeway, known as "La Calzada de los Muertos" in which the most important religious ceremonies of this culture were brought to the foot of the incredible pyramids that were found; The Pyramid of the Sun and the Pyramid of the Moon as well as a couple of very important temples dedicated to different deities, during this tour we will make a tour through all this causeway, we will visit the various temples, the pyramids and a small museum located in the archaeological zone, later we will visit the Museum of Anthropology and History in Mexico City, where we will take a tour through the rooms of the most important pre-Hispanic cultures in Mexico and where we will learn many incredible aspects of all these cultures.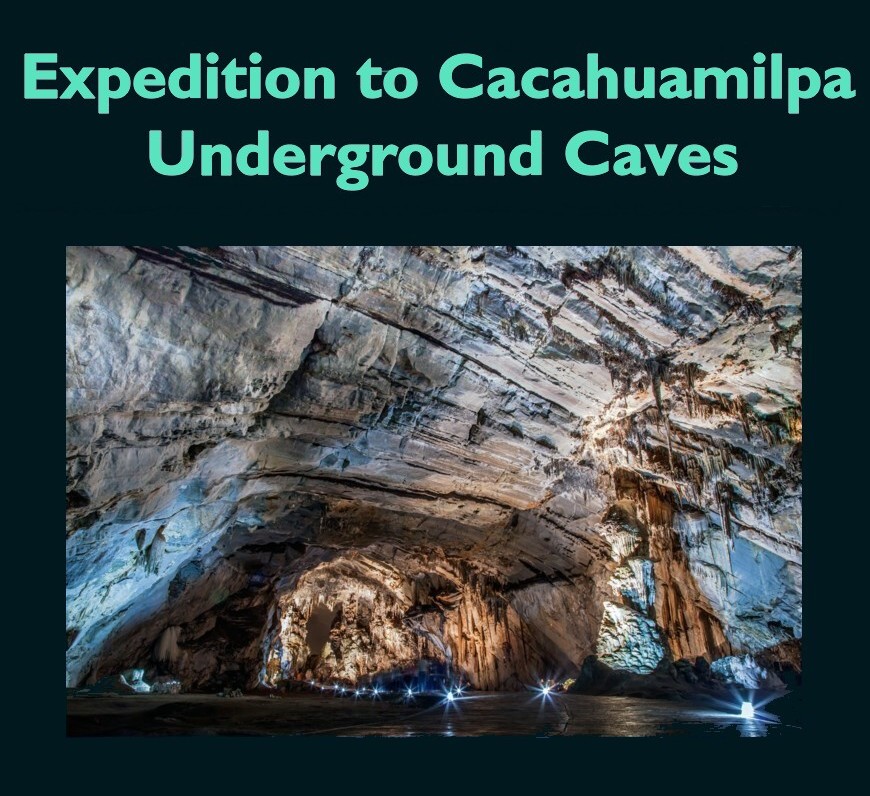 Join us in a great adventure on an expedition to caves with unmatched beauty, Las Grutas de Cacahuamilpa, characterized by having the third place in the world in underground length accessible to humans, in this excursion we will be able to observe hundreds of stalactite and stalagmite formations in a journey of two underground kilometers, illuminated with beautiful shades of colors, we will know various forms and stories that local guides have found over the years, later on this tour we will visit the Archaeological Zone of Xochicalco, unique in its type, built on a hill during the VI century of our era, in which we can see a city preserved in perfect condition through the years with a large number of engravings in stucco, some of which are among the most relevant of pre-Hispanic cultures ...
El Nevado de Toluca is located in the State of Mexico, it is one of the most beautiful and incredible volcanoes in our country since it is the only volcano close to Mexico City where we can appreciate snow in the winter months, likewise It is characterized by being a volcano with one of the largest craters in the world, it has two beautiful lagoons inside and a lava mountain in the central part, which was formed 3,200 years ago approximately due to its last eruption, however Currently it is an inactive volcano that currently no longer generates volcanic or seismic activity, which allows us to visit it, climb it and enjoy its beautiful landscapes as well as the tranquility of nature.
We will make an unforgettable 2-day adventure trip to the Tolantongo Caves, these incredible caves located in the state of Hidalgo, will allow us to live an incredible adventure trip, where in addition to enjoying its beautiful hot springs, they will allow us to enjoy unbeatable landscapes During this trip we will have the opportunity to camp on the shore of a crystal clear blue river, we will be able to enter its caves where the water reaches 30 °, likewise we will be able to take a tour of the reserve to admire the incredible landscapes and biodiversity that its semi-desert mountains offer us ...
Monarch Butterflies are a wonder of nature, since unlike other butterfly species, they have a much longer life and their biological cycle depends on their diet and the climate to which they have evolved to travel long distances in different seasons of the year in order to survive, this has caused an incredible spectacle, because in winter, these butterflies come to the high mountain forests of Mexico to reproduce and feed, which will allow us to appreciate one of the natural spectacles most interesting on the planet to see thousands of butterflies flying around us.
Las Estacas Natural Reserve is an incredible place located in the State of Morelos which has a beautiful natural river with crystal clear waters, in this beautiful natural river we will carry out a snorkeling tour where we will be able to observe a large number of fish from colors and different types of underwater plants that live in this river, we can also see the beautiful jungle vegetation that surrounds this river of transparent water and its beautiful shades that go from turquoise to navy blue in the different parts of the river that change to throughout the day due to sunlight and the different depths of the river, also we will visit Xochicalco Archeological Zone, where we will visit its ancient pyramids and structures...

We will make an unforgettable 2-day adventure trip to Veracruz, where in addition to doing an incredibly fun activity such as the Rapid Descent, we will carry out a Jungle Tour and visit Xalapa, one of the most beautiful cities in Mexico, with a impressive historical center, a great history and incredible landscapes, likewise we will also visit Perote, a small town from where you can see the Volcano Cofre de Perote and where we will visit the Fortress of San Carlos, an 18th century building with great historical significance .. .
Discover your spirit of adventure, learn to surf and know the beautiful beaches of Oaxaca in this incredible trip that we have prepared for you, 6 nights, 7 days on one of the most beautiful beaches in Oaxaca, where we can enjoy the soft sand, the beautiful landscapes, special activities accompanied by experts in ecotourism, conservation and adventure, with an expert surf teacher with whom we can learn this incredible sport in an easy and fun way.